DEM331CO
SINGLE PHASE ELECTRONIC MULTI-RATE FRONT BOARD INSTALLED ACTIVE ENERGY METER
Application
Model DEM331CO single phase electronic multi-rate front board installed active energy meter is a kind of single phase two wire three tariffs (tariff conversion is controlled by timer outside or similar equipment) active energy meter, the meter completely accord with relevant technical requirements of class 1 single phase active energy meter stipulated in international standard IEC 62053-21. It can accurate and directly measure 50Hz or 60Hz active energy consumption from single phase AC electricity net. This meter has seven digits LCD displays shows various consumption data and information. It has following features: good reliability, light weight, specious nice appearance, convenient installation, etc.
Functions and features
Front board three fixed installation, the cover is made of PC material which is transparent and anti-UV molded overall, the bottomof the meter and the terminal are made of quality bakelite material which is moisture-resistant, fire-retardant, high temperaturemolded overall. It has following features: good weatherability, high rigid, good insulation performance, etc.
Have two tariffs, and port of set the tariff, input control voltage 0-90 Vac, set up tariff F1, input control voltage 150-400 Vac, setup tariff F2, the tariff conversion is controlled by timer outside or similar equipment.
Standard configuration cycle display (default) every 5 second, it can display 6 data at most. Can select the data which displayed.The decimal median which displayed can choose set one or two. (Default two decimal, please specified when ordering))
Use memory that is not loss easy, the data can be kept forever after power cut off.
Standard configuration pulse output passive (polarity), May select distant impulse output passive (nonpolarity). And contact withall kind of AMR system conveniently, Complying with standard IEC 62053-31 and DIN 43864.
Five LED instructions respectively power supply state, signal of energy impulse, the direction of the flow of load current, and thestate rates just now
Single direction measurement single phase two wire active energy consumption. It is nothing with direction of the flow of loadcurrent. Complying with standard IEC 62053-21.
Direct connect operation, there are two types wiring you may select. Standard configuration type 1A wiring, may select type 1Bwiring (Product Configuration code is CM).
Standard configuration extension terminals cover, in order to protect to use safety, may select short terminals cover. (ProductConfiguration code is CN).
Technical parameters
Model

Accuracy

Reference
voltage (V)

Current
specifications (A)

Starting
current (A)

Insulation
performance

DEM331CO

Class 1

127
230

5(30)
10(60)
20(100)

0.02
0.04
0.08

AC voltage 4kV for 1 minute,
1.2/50us waveform
impulse voltage 6kV
*If you need different reference voltage or current specification, please advisory our sales.
Outer and mount dimension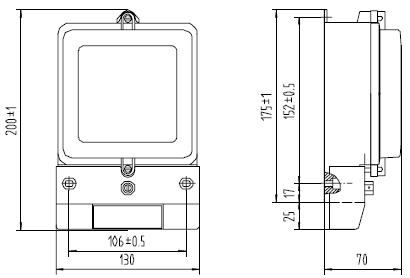 Wiring diagram (Type 1A)
| | |
| --- | --- |
| Terminal | Note |
| 1 | Inlet phase line |
| 3 | Inlet neutral line |
| 4 | Outgoing neutral line |
| 5 | Outgoing phase line |
| P1 and P2 | Port of set the tariff |
| S+ and S- | Port of pulse output passive |