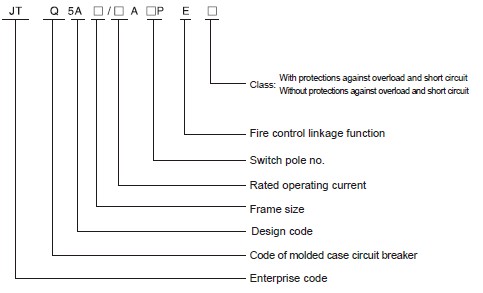 Function of intelligent controller
TQ5A automatic transfer switch is a new device of high quality and intellectualization,
has many functions like automatic/manual operation, double break, power generation,
fire control, etc.. The controller inputs by the keyboard, displayed by LED, the intelligent
controller can detect the single phase of normal power (N) and reserve power (R)
synchronously: When detecting the situation of over-voltage, under-voltage, phase
failure or voltage loss, it will judge higher than 115% of the rated operating voltage as
the over voltage, and lower than 80% of the rated operating voltage as the under voltage,
the microc omputer makes corresponding processing to the test result, then it will send
out command, the processing result can be displayed by LED.
JTQ5A automatic transfer switch (hereinafter referred to as switch) is only used for
transfer between two circuits of power supplies, not for the main power supply. This
product is applicable for dual-power system of AC 50H z, rated operating voltage 38 0V
and rated operating current 63A below, to serve the transfer between normal power
and reserve power by automatic or manual operation. It is mainly used in such fields
that need transfer between two circuits of power supplies like hospital, store, bank,
chemical engineering, metallurgy, high-rise building, military, etc..
JTQ5A automatic transfer switch, with reasonable construction, powerful functions,
stable performance, light weight, compact volume, convenient operation, is mainly
made up of power changeover actuating circuit breaker, there are three state positions
for selection, that is state I (N ON, R OFF), state III (N OFF, R ON) and state (N OFF, R
OFF). The switch has advantages of compact volume, stable performance, powerful
functions and so on, and wins favorable comments from users.
Power grid-power grid (R)
After starting up the machine, you have to regulate it to automatic and normal
power state first, when the power supply comes across abnormal situation, the normal
power indication lamp of controller LED will go out, and it will transfer to reserve
power after time delay and continue to supply power, when the normal power
resumes, it will transfer to normal power from reserve power again, with memory
Outline and mounting siz

Mounting size